The Life and Times of SAM WARD, Man-About-Washington in the Gilded Age
Kathryn Allamong Jacob
Order online
Reviews and media
Featured in Rorotoko blog


Oregon News-Register, March 27, 2010


The Kojo Nnamdi Show, WAMU radio, March 3, 2010


Lexington Minuteman, Feb 18, 2010


Washington Post, February 7, 2010


Wall Street Journal, December 30, 2009


Washingtonian Magazine, January 2010 issue, p. 12


Roll Call, January 12, 2010, p. 21


Library Journal, October 15, 2009


PW (Publishers Weekly), October 19, 2009


Featured in Digital Politics podcast


Featured in Wonders and Marvels blog


Featured in America Reads blog


Featured in Blog Critics


Featured in Politico podcast, March 4, 2010


Events
Other books by Kathryn Allamong Jacob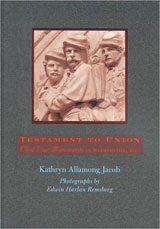 Testament to Union: Civil War Monuments in Washington, D.C.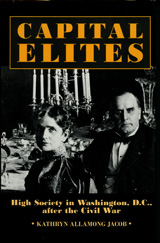 Capital Elites: High Society in Washington, D.C. after the Civil War
Order online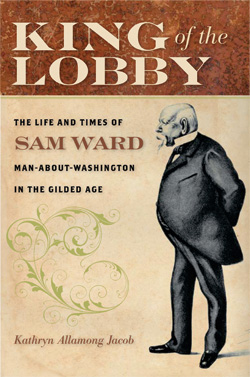 Lamentations that special interests, by spending obscene amounts of money, were strangling the voice of "the people"? More lobbyists than Corinthian columns in the halls of Congress? These filled the press and the Capitol building in the 1870s.
In an era when wave after wave of scandal uncovered congressmen who sold their votes and ruthless men who arrived in Washington with trunks full of cash with which to buy them, Sam Ward reigned unspotted as "King of the Lobby." Not only that, he transformed what it meant to lobby. Bribes of railroad stock weren't for him. "The King" traded in information exchanged at dinner parties, evenings that one guest gushed were "the climax of civilization." At his table the outlines of a new, modern lobby, a lobby easily recognizable today, took shape.
King of the Lobby is about power, politics, money, and lobbying in Washington in the Gilded Age. It is about delicious food, fine wines, and good conversation and how Sam Ward combined all three to create a new type of lobbying—social lobbying—and reigned as "Rex Vestiari" for a decade. Scion of an honorable old family, brother of unassailably upright Julia Ward Howe, best friend of Henry Wadsworth Longfellow, mathematician, linguist, California '49er, spendthrift who squandered several fortunes, Sam Ward was one of the most amazing men of an era crowded with larger-than-life personalities.
Opening vignette from the book
The ring—a five-carat deep blue sapphire surrounded by 42 glittering diamonds—flashed each time Sam Ward gestured to emphasize a point, and he had many points to make. The ring's fire distracted the members of the House Ways and Means Committee trying to concentrate on this lively witness' testimony in January 1875. The congressmen did not want to miss a word of what Sam Ward had to say. Already within the first few minutes since he had begun, he had made them laugh so hard that the stenographer was obliged to insert "[laughter]" into the official transcript.
This hearing was supposed to be a serious affair. The committee was investigating the latest scandal to rock the second Grant administration. The Pacific Mail Steamship Company had allegedly pried out of Congress a subsidy to carry the mail to China and the Orient only after greasing the skids (and several palms) with what the New York Tribune claimed was the extraordinary sum of one million dollars. Sam Ward's name turned up on a list of men who profited by the deal, and he had been summoned to appear before the committee to explain himself.
The witnesses who preceded him had stumbled and sweated through their stories. Not Sam Ward. Five-feet eight-inches tall, stocky, with a perfectly cut suit, the eye-popping sapphire ring, shiny bald head wreathed with a fringe of graying hair, flowing mustache and precisely trimmed Van Dyke beard, one reporter claimed he "fairly gleamed with good living" as he strode into the chamber with a self-assured air. His regal bearing was no accident and no surprise. Sam Ward was known to everyone in the room and far beyond Capitol Hill as "The King of the Lobby."
Reviews
Jacob enthralls readers with anecdotes of Ward beguiling a skeptical press and demonstrating persuasiveness to members of Congress...a crisply written study, making excellent use of new sources and providing historical perspective through sprightly stories enlarging our understanding of the phenomenon of the lobbyist. Sure to please both serious researchers and general readers.
—Library Journal
Washington of the 1850s to 1880s, mirroring America's transition to an industrialized, expanding society, was characterized by greed, corruption and social upheaval as political factions vied for office and influence. Cultural historian Jacob (Capital Elites: High Society in Washington, D.C., after the Civil War) captures this tangle of forces, events and people in her short biography of Sam Ward, scion of a New York banking family, '49er, spendthrift and lobbyist. Ward earned the title "King of the Lobby" by applying savoir faire, gastronomy and a genius for social combinations to the hitherto crude process of influencing votes in Congress. He represented insurance, telegraph and steamship companies as well as banking, mining and railroad interests, among others. As with other lobbyists, Ward offered access and technical expertise, but "[he] was in the vanguard of the social lobby...." Using Ward's own words allows Jacob to illuminate his vivid personality. Her extensive research is reflected in her recounting of Ward's life, successfully putting it into the context of the history of lobbying. Jacob's focused narrative will appeal to American history buffs. 20 b&w photos. (Jan.)
—PW (Publishers Weekly)
"A wonderful book. The author explores a protean figure with much to tell us about the evolving nature of politics and government in the age of the Civil War. The author's great accomplishment here is to make Sam Ward come alive."
—Michael McGerr, Indiana University
"Jacob details how a swashbuckling scion of a wealthy New York family settled into his lobbying career in Washington, D.C.....and produces page-turning tales of ethically challenged reporters...[and] a new breed of lobbyist in Reconstruction-era Washington: the 'lobbyess.'"
—Matthew Murray, Roll Call
"Jacob's trim and surprising biography of Sam Ward...will not change most people's view of what is essentially a hustler's profession. But she brilliantly shows how, in the hands of a master, lobbying can be lifted to the level of art." —Fergus M. Bordewich, Wall Street Journal
"In this delectable biography, Kathryn Allamong Jacob serves up the life and times of this protean character." —Washingtonian Magazine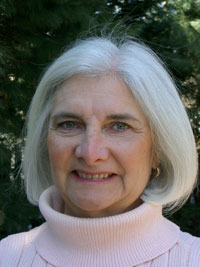 Kathryn Allamong Jacob is curator of manuscripts at the Schlesinger Library on the History of Women in America at the Radcliffe Institute, Harvard University. She is the author of Testament to Union: Civil War Monuments in Washington, D.C., also published by Johns Hopkins, and Capital Elites: High Society in Washington, D.C. after the Civil War. [More...]